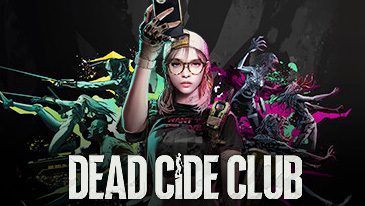 Join a Cartel and blast your way to success in a free-to-play side-scrolling interpretation of "FPS" type fun!
Additional Information
Minimum System Requirements
Operating System
64-bit Windows 7, Windows 10, Windows 11
Storage
20 GB available space
Graphics
NVIDIA GeForce GTX 960 2GB / AMD Radeon R7 370 2GB
Processor
Intel Core i5-4430 / AMD FX-6300
Description
If you're a fan of first-person shooter games but are looking for something a tad outside of the usual offerings, Dead Cide Club may just offer you that "something different" you've been after. While it isn't truly a "FPS", Dead Cide Club offers what the team at PressA calls a "side-scrolling interpretation" of FPS gameplay.
Join one of the game's seven Cartels, pick a playstyle and lock in skills catering to that style, and hop into one of the game's multiple modes including Battle Royale Trios, 5v5 Domination, and a 3-person PvE Horde Mode. After Early Access ends, other modes, like a "God Mode", will also be available.
Take to more of a 2D view and make split second decisions that will determine the outcome for your squad. Dead Cide Club's unique art style, unusual perspective for a shooter, and the fact that it's free-to-play all add to the list of reasons why this game might be worth a look if you want something a bit "out there" from the genre.
All material on this page is copyrighted by ©Level Infinite and their respective licensors. All other trademarks are the property of their respective owners.