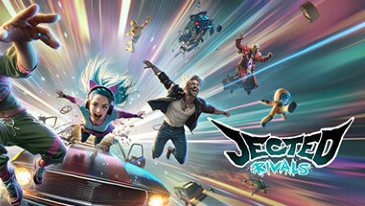 Drive, glide, and perform stunts on your way to the highest scores or trying to cross the finish line first.
Additional Information
Developer
Pow Wow Entertainment
Minimum System Requirements
Operating System
Windows 10 64 bit
Storage
8 GB available space
Description
Sometimes the best way to win a car race is to not even use your car at all! Formerly called "Stuntfest: World Tour", THQ Nordic and Pow Wow Entertainment releases "Jected - Rivals" into early access.
Hop into your customized vehicle and take on racing challenges with up to 18 participants. Crossing the finish line in the driver's seat isn't the only objective, though. When things get a little messy, simply eject from your car and fly or glide your way to hidden routes, secret treasures, and insane stunts.
How you tackle a race, whether it be a full on destruction derby or a head-to-head glide race, is entirely up to you. Show off your superior speed, your insane stunts, or just enjoy the scenery as you work your way to the finish line.
Just remember, to BE the best, you've got to BEAT the best!
All material on this page is copyrighted by ©Level Infinite and their respective licensors. All other trademarks are the property of their respective owners.