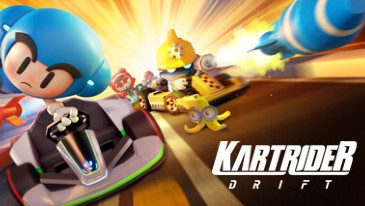 Hop into fast-paced, cute as hell kart racing in this PC and mobile free-to-play, item-throwing, drifting racer.
Additional Information
Publisher
Nexon America Inc.
Developer
Nexon Korea Corporation
Minimum System Requirements
Operating System
Windows 10 or above (64-bit)
Storage
30 GB available space
Graphics
GeForce GTX 760 / AMD Radeon HD 7950
Processor
Intel 1st Gen i3 / AMD FX-6000 Series
Description
After all the years we've talked about this game, its beta tests, new mobile version (a different title)... you'd be forgiven if you thought KartRider: Drift was already released! Seriously, it's been years of headlines on the site each step of the way to get to now!
While you may have been able to play this PC and mobile cross play kart racer for a bit now, it finally OFFICIALLY made it to the launch preseason in early 2023.
Hop into a cute kart, learn the basics of throwing items and drifting around corners (in case a certain OTHER game hadn't already taught you that) and blow past your opponents on your way to claiming the checkered flag.
With multiple modes, including an item mode, tons of cosmetics and karts to collect, and touting "no barriers, no paywalls, and no pay-to-win", KartRider: Drift wants you and your friends on PC and mobile (yes, it is cross play) to hit the track for some high octane fun!
All material on this page is copyrighted by ©Level Infinite and their respective licensors. All other trademarks are the property of their respective owners.