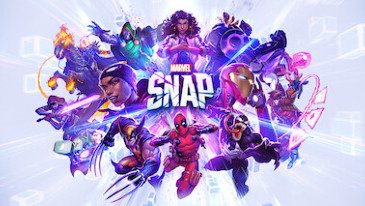 From some of the minds that brought you Hearthstone comes a fast-paced MARVEL based card battler for mobile and PC.
Additional Information
Developer
Second Dinner Studios, Inc.
Minimum System Requirements
Operating System
Windows 7 (SP1+)
Storage
4 GB available space
Graphics
Nvidia GeForce GTX 650 / AMD Radeon HD HD 6950
Processor
Intel Core i5-650 | AMD Phenom II X4 965
Description
The MARVEL IP is no stranger to card games or table-top games, and now MARVEL SNAP is brining your favorite heroes and villains to the digital card world in a fast-paced, high octane card game on your PC and mobile device.
MARVEL SNAP is created by some of the original minds behind Hearthstone and adopts a similar "pick up and play quickly" mentality. You'll know how to play within minutes and you'll be collecting your favorite iconic characters, battling it out in classic MARVEL locations, and utilizing the game's "SNAP" feature to immediately up the stakes when you're sure you're going to win...or you just want to bluff that you will!
Cards even come in multiple varieties like 8-bit versions, chibi versions, and more so the digital collecting potential for fans is high.
If you're looking for something fast, this game may end up being your "go-to, I only have a few minutes" game as matches only take 3-6 minutes.
All material on this page is copyrighted by ©Level Infinite and their respective licensors. All other trademarks are the property of their respective owners.